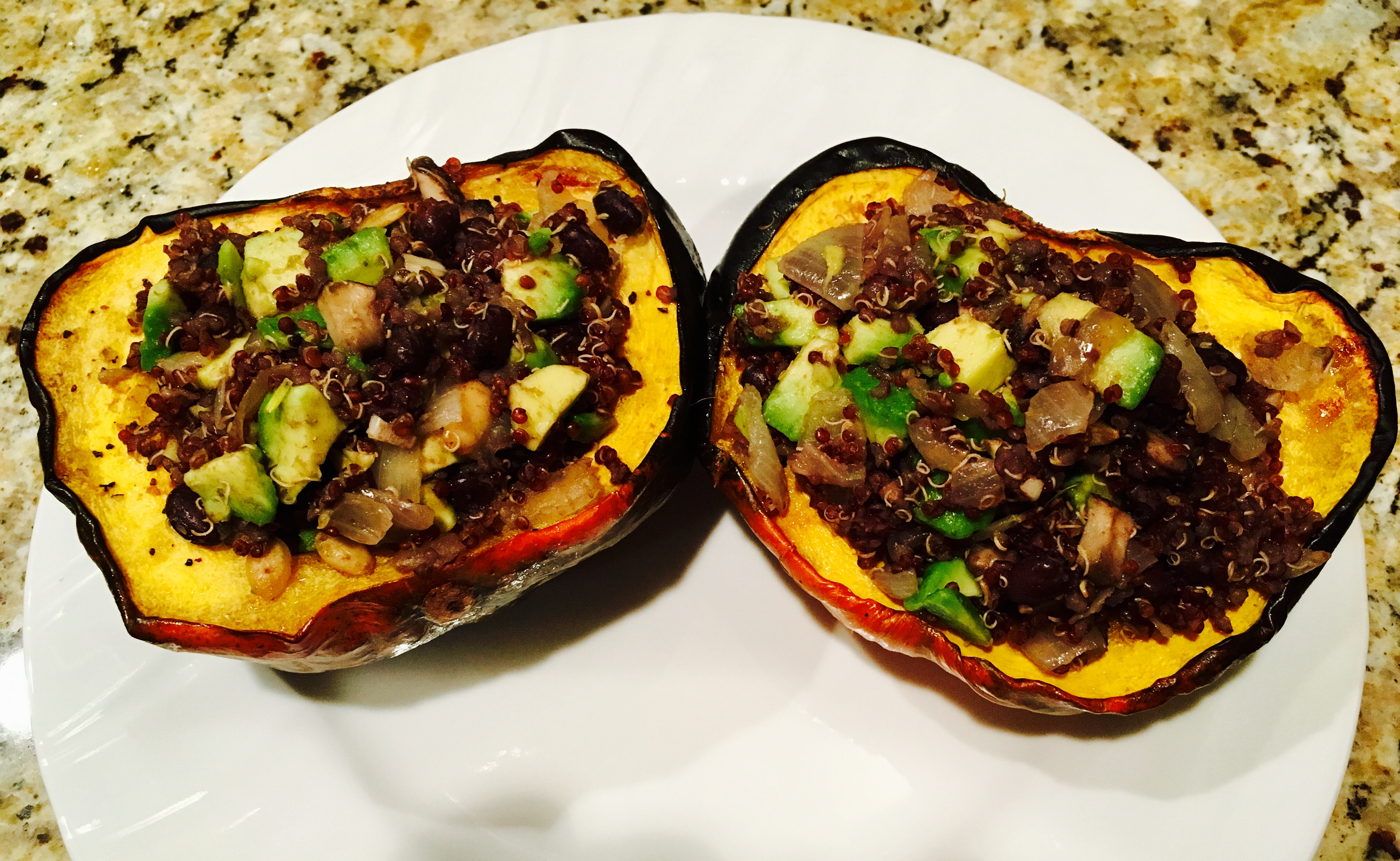 Prep Notes
Prepare the quinoa ahead of time
Preheat oven to 400 degrees F
Dice the onion and mince the garlic
Cut acorn squash in half and scoop out the seeds
Drizzle acorn squash with olive oil and sprinkle with salt and pepper
Cooking Time
45-50 minutes
Ingredients
1 cup cooked red quinoa
2 acorn squash, sliced in half
2 tablespoons olive oil
1 medium onion, diced
3 cloves of garlic, minced
1 teaspoon cumin
1/2 can black beans, drained and rinsed
1/4 cup pumpkin seeds
2 tablespoons fresh squeezed lime juice
1 large avocado, diced
Sea salt & pepper to taste
Directions
Roast cut side up for for 45 minutes until squash is soft in the middle and the edges are browned
While acorn squash is roasting, heat olive oil in a large skillet over medium heat. Add the onion and a couple of pinches of salt and pepper. Cook the onion until translucent
Add the garlic, cumin, coriander and stir
Add the quinoa, black beans, pumpkin seeds, lime juice, and stir. Add salt and pepper to taste. (Only leave the mixture on the skillet until beans are warm, so they don't get mushy)
Remove skillet from the heat to cool 
Dice the avocado and stir into dish
Scoop the filling into the acorn squashes halves, and you are ready to eat!
Notes
Can experiment with different seeds and toppings!
Can prepare the filling ahead of time and refrigerate until you are ready to roast the acorn squash (reheat for 10 minutes on skillet)